3 Benefits of Becoming a Vendor at the 2018 Building & Remodeling Show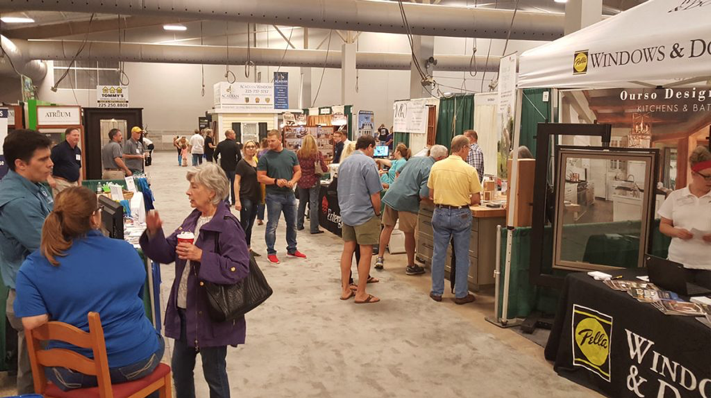 The Building and Remodeling Show is the perfect opportunity to market your products and services to thousands of qualified buyers over 2 days --- for significantly less than you would spend on conventional radio, television, and print advertising! The Building and Remodeling Show offers face-to-face contact with a large, captive audience full of motivated homeowners. Customers get to see WHO will be working in their home during their project.
The show provides an unrivaled environment for your business to meet many of your potential customers in one place! As a vendor, you will also have an opportunity to meet other exhibitors, check out new developments, and keep a close eye on your competition.
Don't just take our word for it- hear from Chris and Adrienne, two past vendors that have seen growth in their businesses because of their participation in The Building and Remodeling Show. They each talk about the benefits they've experienced from their participation.
3 Benefits of Becoming A Vendor at The Building and Remodeling Show:
1. Connect with thousands of potential customers.
Chris with M&M Glass Company has been a apart of The Building and Remodeling Show for about 20 years, even back to the days that it was called The Habitat Home and Garden and Show.
He says, "as the years have gone by we've realized that it's one of the best investments we've ever made because year after year we just keep growing and growing, and part of that is because of this show, because we have an opportunity to showcase our products in front of the whole community.
According to Chris, every year the show keeps getting better, with the volume of traffic continuing to increase. With your participation, we're expecting our best year yet with more vendors and more attendees. The ability to reach thousands of people at this event is an investment that you can't ignore. Chris says, "the number of leads that we got from each show far exceeded what we spent to participate…the return on the investment is definitely there…it's measurable."
2. Leave a personal impression.
While other forms of advertising are a great way to expose people to your brand, there's nothing like a personal touch and human interaction when selling a product.
Adrienne Hollie with Relief Windows says that while people are often already familiar with their company, the show provides a unique hands-on experience that yields results. She says, "Often times, customers are familiar with our company through local advertising. Being accessible at the home show allows the customers to interact in a laid-back atmosphere, to view our products and to meet our team…Meeting someone in person for the first time, rather than over the phone leaves an impression with customers that they rarely forget!"
Chris says that steady interaction with customers in a setting like this is how their business has grown over the years. He shares, " I think that the benefit of doing this versus other types of advertising is much greater in my opinion because it's measurable... I don't think it does compare, it's a night and day difference. This is not media advertising, this is a direct connection between you and potential customers…" During this two day show, customers get the opportunity to have questions answered, are shown products in great detail, and have the opportunity to touch, feel, smell, and try the products. He continues, "This is much, much, better than just regular media advertising. You're putting your products right in the faces of potential customers and having the chance to talk to them about those products."
3. Interact with serious customers.
While there is great diversity in the types and kinds of people that attend the show, one thing seems to be a shared common theme: attendees to the show are serious customers and ready to make decisions.
Adrienne says, "Many customers come to the show ready to make a decision regarding their projects. Some come with house plans in hand and ready for a quote."
You have the opportunity to leave the show with far more leads than you would have without participating. Chris estimates that over the years they would have at least a hundred plus leads per show ,"not bad for a weekends work", he says. The main point Chris makes, a note we want to end on, is this: "These are leads you wouldn't have had if you hadn't been there."
How to Become a Vendor
The 2018 Building & Remodeling Show is an ideal forum to connect with motivated buyers seeking to renovate, rebuild, or construct a new home! The expo takes place April 14-15 at the Lamar Dixon Expo Center in Gonzales, LA.
Find more specific information about The Building and Remodeling show by clicking here and make sure that you download the exhibitor packet! Contact Krystalin with any further questions- email her at Krystalin@capitalregionba.com or give her a call at 225-769-7696.